Almost identical to how you can hide and show submission form questions depending on the category, you can do the same thing for judging criteria.
What is this feature?
If you do not use the categories feature in OpenWater, you can skip this.

If you ask the same question to the judge regardless of which category they have chosen, you can also skip this.
If you have a different set of judging questions depending on which category the applicant chose, then you've come to the right help article.
For each category that you have that contains its own set of questions, the more work you will have in setting up the judging criteria. If you haven't revisited your questions that you ask your judges in some time, this might be a good opportunity to standardize. Try and define a judging form that encapsulates as many categories as possible, or larger groups of categories. Hence, this feature is known in OpenWater as Category Groups.
Configuring the Category Groups
Set your questions up
First add all of the questions that you need to ask on the judging criteria. In the small example below we are going to ask our judges who are reviewing submissions in a fictional Car category on a 1 to 5 scale, but score submissions in a fictional Truck category on a 1 to 10 scale instead. All the questions are added together in the same list shown below:
Add and assign your category groups if they do not already exist
If the Category Groups are already added and assigned because you set them up for your submission form, you can skip this step.
To add your Category Groups, first navigate to your program.
Under the Program Settings drop down menu, click Category Groups.

Click Add Category Group to add your new group. If every category has its own set of questions, you will need to add a category group for each category.
After your category groups have been added, tab over to the Categories and assign each category to a category group by clicking Select. Choose the category group from the drop down menu and click Save.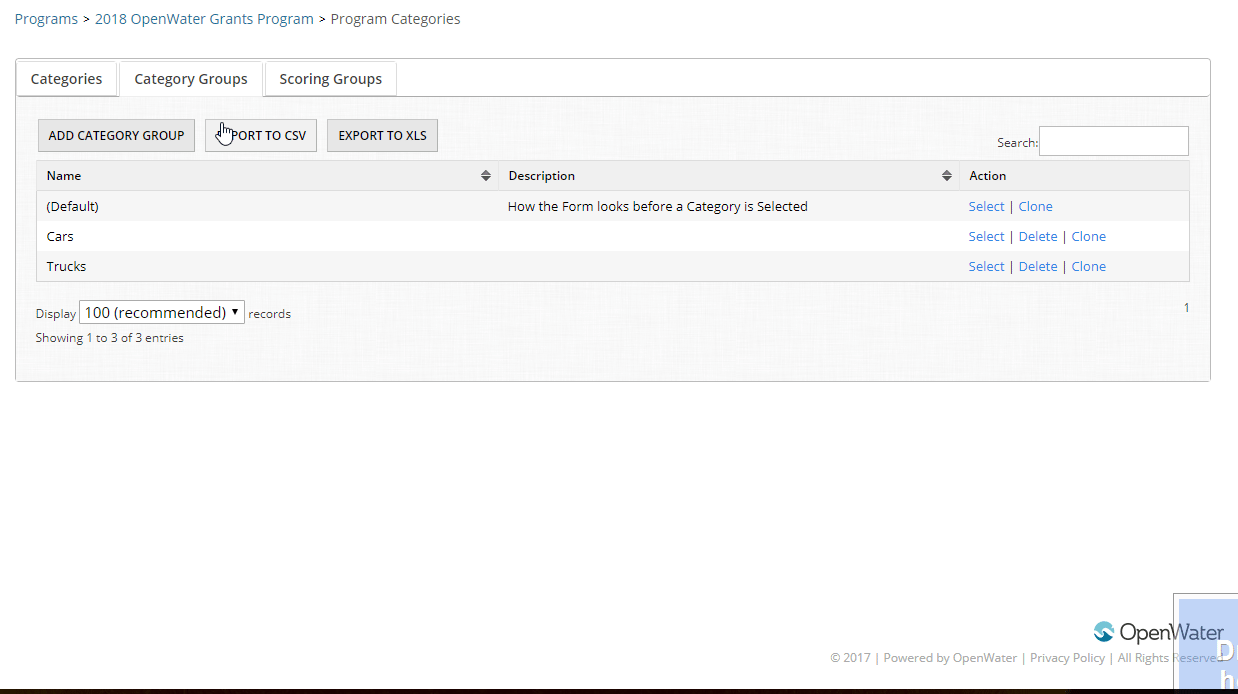 Show / Hide Fields to Judges
There are two approaches to configuring category groups. The first approach is while you are configuring the actual evaluation criteria question. The second approach is through the category group. We'll show you both approaches and you can decide which is most convenient for you.
Via the Evaluation Criteria Question
First, load up the evaluation criteria question that you want to manage. Click on Configure Category Group Settings.
If a judge is viewing a submission in the Car category, we want to hide any non-Car category judging criteria. Check the box for Hide next to the non-Car category groups.

Click Save and Return to Form. Repeat the process for all questions that need to be configured. If a question appears on all categories, you do not need to configure its settings.
Via the Category Group
Select the first Category Group. In our example, we'll choose Cars.
If a judge is viewing a submission in the Car category, we want to hide any non-Car category judging criteria. To do this, choose the Judging Form from the drop down menu at the top center of the screen.

Hide the Truck question and click Save.
This results in the view to the judges, only showing the appropriate questions. The screenshot below demonstrates how the Car category was chosen, and only the Car judging question appears, not the Truck question.

Pro Tip!
One final tip that might help you -- after you configure your category groups, you can go back to your Evaluation Form and use the drop down box to see a quick filter of which questions are being shown for that category group.